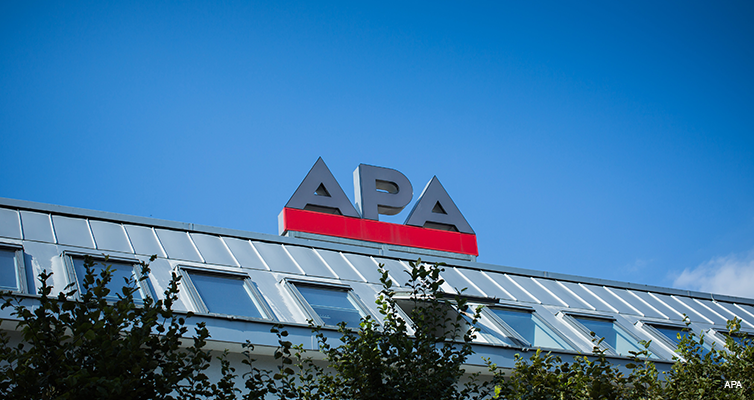 For APA-Group growth in 2019 and a stable position in the pandemic year 2020
Favourable performance in 2019 laid the foundation for likely stable development during the corona crisis – Emphases on new cooperative services and digital product development for the IT and communication market
APA – Austria Press Agency presented an increase in result and revenue at its general meeting on Wednesday. Consolidated revenue totalled EUR 66 million in 2019 compared with EUR 63.71 million in 2018. The growth generated in revenue was therefore 3.6 percent.
APA-Group's operating result (EBIT) was EUR 2.16 million in 2019 compared with EUR 1.25 million in 2018. The result from ordinary activities (EBT) totalled EUR 2.14 million compared with EUR 0.62 million in 2018 (for direct comparison, each adjusted for non-recurring sales proceeds resulting from an exchange of a 50 percent stake in Keystone for 30 percent of the news agency group merger Keystone-SDA in 2018).
The average number of full-time equivalent staff employed by the Group was 509 compared with 519 in 2018.
Issues and personnel-related matters in 2019
Elections, news tech, and an important anniversary: the 2019 financial year posed a particular challenge for the APA editorial team with the EU elections and the early elections to the National Council following the ´Ibiza video'. Both elections were supported by a new editorial service for automated text generation on the election results (Automated Content) as well as by a significantly expanded range of live streams and live blogs. The focus on moving images was manifested in the high number of Austria Video Platform (AVP) hits.
Subsidiaries APA-OTS and APA-DeFacto have combined their services for the dissemination of information and media monitoring in the new interface 'PR-Desk' a one-stop shop for communication professionals that went online in February 2020. As an "issues space", APA-Press Centre has expanded its existing range of services for holding multimedia press conferences to include special facilities and infrastructure for external events and workshops.
APA-IT opened a new data centre in Switzerland as part of the technology cooperation agreement with Keystone-SDA, and the Gentics division was awarded the contract for the web portal of the future Swiss e-government solution. Since 2019, APA-Online Manager (AOM) has been available for mobile use via native apps for iOS and Android.
In the scope of the 80th anniversary of the independent news agency alliance Group 39 (1939-2019), the statutes were reformed under the Austrian presidency, resulting in the addition of new members, the two independent news agencies dpa (Germany) and PA Media Group (United Kingdom).
Johannes Bruckenberger has been APA's new editor-in-chief since January 2019. Changes in management were also undertaken in subsidiaries: Julia Wippersberg has been managing director of APA-OTS GmbH since 2019; Clemens Prerovsky and Gerald Innerwinkler are the new management duo of APA-IT GmbH. Furthermore, Clemens Prerovsky, managing director of APA-IT GmbH, and Klemens Ganner, managing director of APA-DeFacto GmbH, were appointed as authorised representatives and members of APA eG's Management Board.
Chairman of the APA Management Board Clemens Pig and APA Managing Director Karin Thiller pointed to the systemic relevance of independent news agencies: "APA-Group's strong growth in revenue and result in 2019 gives us the necessary momentum for the company's likely stable development in this time of pandemic. In view of the exceptionally high demands and challenges during the corona crisis, APA has been fulfilling its fundamental mission as a cooperative for the country's media and institutions very satisfactorily, both at the editorial as well as technological level. As a national independent news agency, we are a well-rehearsed operational organisation, guaranteeing a reliable news flow and stable IT systems around the clock."
APA Chairman of the Board of Directors Hermann Petz and Supervisory Board Chairman Alexander Wrabetz described the APA-Group as a "national infrastructure company for news and media technology and Austria's leading service provider for communication professionals. We thank all of the APA-Group companies' employees for the successful 2019 financial year and for their extraordinarily high level of commitment and important contribution during the corona crisis."
Extension of mandates for the board of directors and supervisory board of Austria Press Agency
In the general meeting, the mandates of Herbert Achleitner (Oberösterreichische Nachrichten), Wolfgang Fellner (Österreich), Martin Hagenstein (Salzburger Nachrichten), Hubert Patterer (Kleine Zeitung) and Brigitte Wolf (ORF) were confirmed on the board of directors for another three years. Thomas Kralinger (Kurier), Wolfgang Eder (Oberösterreichisches Volksblatt) and Wolfgang Zekert (Österreich) will retain their mandates on the APA Supervisory Board for another three years. Thomas Kralinger was unanimously re-elected as vice chairman of the Supervisory Board of APA eG for another three years. The executive committee of the Supervisory Board therefore continues to comprise the following members: Alexander Wrabetz (ORF) as chairman and Thomas Kralinger (Kurier) as well as Markus Mair (Styria) as vice chairmen of the Supervisory Board. The executive committee of the Board of Directors comprises Hermann Petz (Tiroler Tageszeitung) as chairman and Thomas Prantner (ORF) and Eugen A. Russ (Vorarlberger Nachrichten) as vice chairmen and Clemens Pig (APA) as CEO of APA and Chairman of APA's Management Board.
Current situation in the pandemic year 2020
From today's perspective, APA is expected to show stable development with a balanced result in the 2020 financial year; an overall forecast for the remainder of the year is not possible at this time. With the beginning of the corona pandemic, the focus on digital product development was further intensified and included digital press conferences at APA-Press Centre, live blogs concerning corona by the APA editorial staff, new e-paper services in the digital Austria Kiosk, digital services from APA-Campus through webinars as well as APA's new fact-checking service for the verification of content, especially from digital space.
APA – Austria Press Agency
APA – Austria Press Agency is the national news agency and Austria's leading information service provider. It is owned by Austrian daily newspapers and ORF. APA-Group comprises the cooperatively organised news agency and three wholly-owned subsidiaries and operates as a news agency, picture agency and in the areas of information management and information technology. The editorial offices of APA ensure real-time news services in word, image, graphics, audio and video, while the subsidiaries provide distribution, research and knowledge management services as well as information technology solutions.