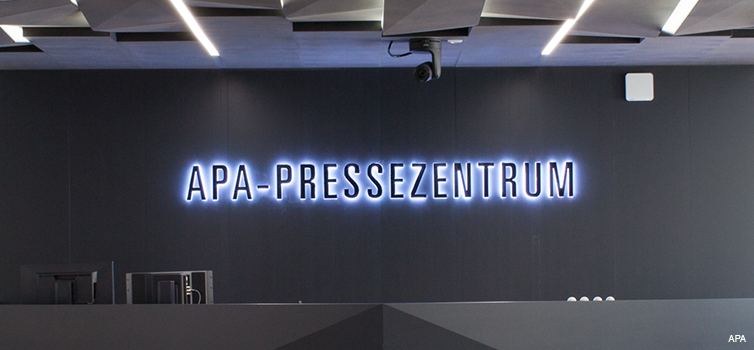 APA-Press Centre: live in the digital stream
With the beginning of the corona pandemic, press conferences, university lectures and multi-day conferences and cultural events suddenly shifted to virtual space. Live streams experienced an enormous uptick and are now part of the standard programme of modern events. APA-Press Centre's response was rapid. More and more companies and organisations are using it as a digital framework.
At a time in which physical contact is still kept to a minimum, new formats for digital communication are developing swiftly and often encountering a new level of acceptance. For example, virtual press conferences have also experienced an upturn. After all, interaction can also be generated in digital space, for instance by means of a question-and-answer tool, as is offered at APA-Press Centre at Vienna's Naschmarkt. Live streams can be ordered here, and people can be added via webcam and integrated into the online event.
Video stream as default mode
"With a great deal of competence, creativity, flexibility and commitment, we have organised nearly 30 digital events this year so far, from online press conferences to product presentations and an online congress lasting several days. Customers from a wide range of industries have used APA-Press Centre and its equipment," APA-OTS Managing Director Julia Wippersberg says, looking back at the last months. The demand for modern streaming technology was already there before the corona crisis but has grown enormously since mid-March. Product Manager Robert Nowak is certain: "For journalists and media representatives, video streaming will become the default mode in the future, for participation by clicking on the streaming link is already part of the new normal – as is the feedback channel for questions."
From planning to post-processing – everything from a single source.
The basics of event management apply not only to physical but also to virtual conferences, presentations, discussions and online workshops. The APA-Press Centre team advises on event planning and, if required, also organises photo coverage and the dissemination of information. Online events of any kind and size can be set up quickly, which makes APA-Press Centre interesting for digital crisis communication as well. Using the professional tool "PR-Desk", press releases or a video can be distributed to the public afterward quickly and easily and the media response to the online event can be measured.